In our eyes, brunch rules the weekend. Neither too early nor too late, a munch and a mimosa may be the best way to kick off your day. Here is a look at some exceptional epicurean adventures in the A.M. as well as some dishes and drinks that will delight while there.
O.H.S.O.
While O.H.S.O. stands for Outrageous Homebrewer's Social Outpost, come Saturday it should be short for OH-SO Much Fun. Available both Saturday and Sunday from 9 a.m. to 2 p.m. at all four locations Valleywide, O.H.S.O.'s brunch menu is notable as each signature entrée comes with a 10-ounce beer or super-sized mimosa. Each location is also ultra-dog friendly, going so far as to have water features and snacks for pups on each of its epic patios. Those in the know start any weekend visit to the eatery with the donut hole starter to enjoy with that first complimentary drink. Then, the options are nearly limitless, but items of particular note are the Biscuits & Beer Gravy, which features homemade buttermilk biscuits fresh from the oven along with spicy sausage and beer-infused gravy, as well as a side of bacon, and the Fruity Pebbles French Toast, actual French toast coated with Fruity Pebbles before hitting the griddle and then paired with lemon mascarpone and fresh berries to boot.
Snooze, an A.M. Eatery
You have to love an ironic name. Do anything BUT hit the Snooze button when someone invites you to Snooze for brunch. Big, bold and bright inside and out, if the vibe doesn't wake you up, the morning mixology surely will. From coffee-infused cocktails to bold takes on Bloody Marys, each of Snooze's nine locations across Arizona offer brunch from open to close seven days a week, and they bring it with pre-lunch libations. Among its most popular cocktails are the Abricalavra, which is a twist on a traditional mimosa featuring Snooze's own proprietary sparkling wine, apricot liqueur, fresh lavender, honey, and lemon juice, and the Orange Snoozius, an amped up vodka and orange juice that adds in a healthy dose of orange liqueur and layers of whipped cream. The food is similarly spectacular, especially the Benny Duo, which gives guests the chance to mix and match any two iterations on eggs benedict on their menu–there are seven–together with crispy hash browns. First-timers are smart to go for a pork chile verde benny paired with a habanero pork belly benny.
Ladera Taverna y Cocina (Now Closed)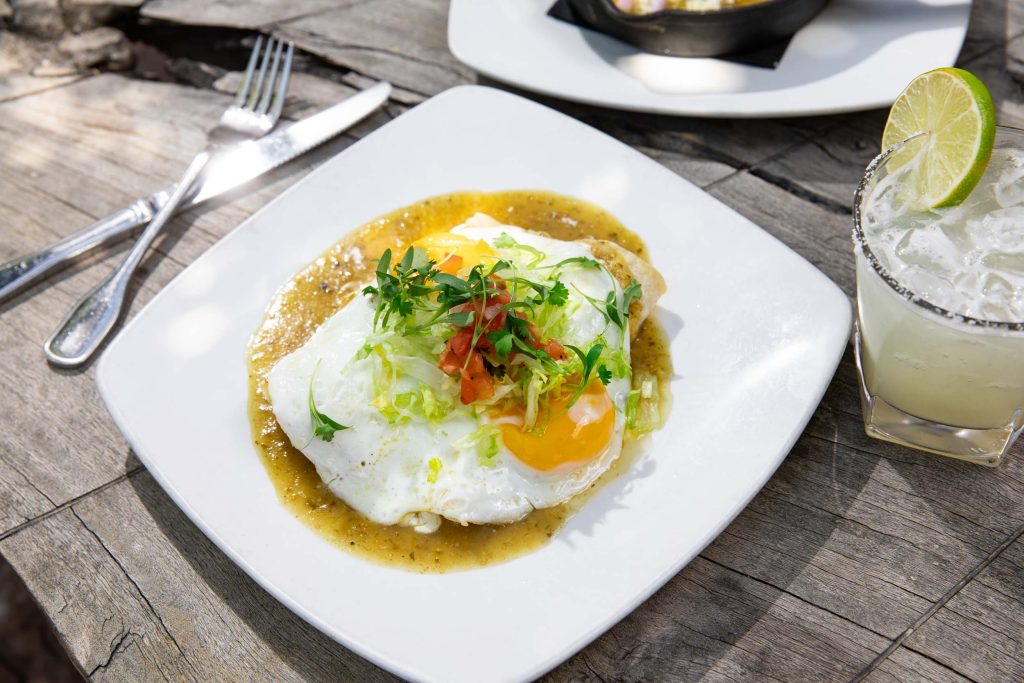 Though in the heart of Phoenix, this modern Mexican restaurant and bar–with one of the sneaky best patios in Arizona complete with candelabras and tables with hand-painted tiles–effortlessly transports your tastebuds south of the border every weekend from 10 a.m. to 2 p.m. During that time, not only are there $4 Bloody Marys, mimosas, sangria, Micheladas, and house margaritas, but 10 or more signature morning items‌, plus almost the entire regular starter and main menu, to boot. After ordering a round of cocktails, you'll be wise to decide on two or three appetizers to share. From the street corn with chipotle aioli, chili powder, and cotija cheese, to the wild shrimp ceviche with lime marinated Mexican shrimp, red onion, cucumber, tomato, clamato, and cilantro, there isn't a loser in the bunch. From there, look at the most authentically Mexican morning menu items, including the Chilaquiles Rojos with pork pibil, Enchiladas de Pollo with over easy eggs, and Coco Leche French Toast with dulce de leche, coconut streusel, and spicy honey.
Herb Box
Many know Herb Box for its ample vegan and gluten-free options, but not everyone knows the eatery also supports local growers and suppliers by using farmers' cheese, cage-free eggs, hormone-free natural meats, nitrate-free bacon, and local, organic produce whenever possible. Their brunch service runs on Saturday from 9 a.m. to 4 p.m. and Sunday from 9 a.m. to 3 p.m. Both the Smoked Salmon Hash with crisp pancetta, capers, and smashed fingerlings and the Cinnamon Buckwheat Pancakes with honey butter and smoked bacon offer the chance to sample just how satisfying gluten-free menu items can be. Those picks also shine a spotlight on locally sourced items. Herb Box keeps it simple and in style at each of their chic eateries. Items like the Simple Good Morning Eggs with smoked bacon, avocado, tomato, and the Chargrilled Steak & Eggs with ancho-bourbon demi-glace and smashed fingerlings with roasted red pepper aioli will load your palate with flavor and fuel for the day!
STK Steakhouse
Just last year, The ONE Group–known for introducing Kona Grill to the Valley–opened the doors to STK Steakhouse at the Scottsdale Waterfront, marking the brand's 14th location in the United States and 22nd worldwide. The 6,177-square-foot restaurant boasts a 1,200-square-foot patio outside and large central lounge inside, furnished with creamy leather banquettes and textured crocodile tiles. Visitors will also witness a formal dining room, chic bar, and STK's dramatic signature horn wall. For those unfamiliar, each STK worldwide features a wall with more than 100 cattle horns inside. Other signature elements include theatrical lights illuminating each table, live music several nights a week, and a brunch worthy of a rock star. Available on weekends from 10 a.m. to 3 p.m., brunch service starts with the option of 90 minutes of bottomless mimosas or Bloody Marys for $30 per person. Then, guests can go big or go home with options including Lobster Eggs Benedict with caviar hollandaise, a Wagyu Burger made with seven ounces of premium Wagyu beef, and Truffle Steak & Eggs with Wagyu flat-iron steak, shaved truffles, and truffle buttered brioche.
Campo Italian Bistro + Bar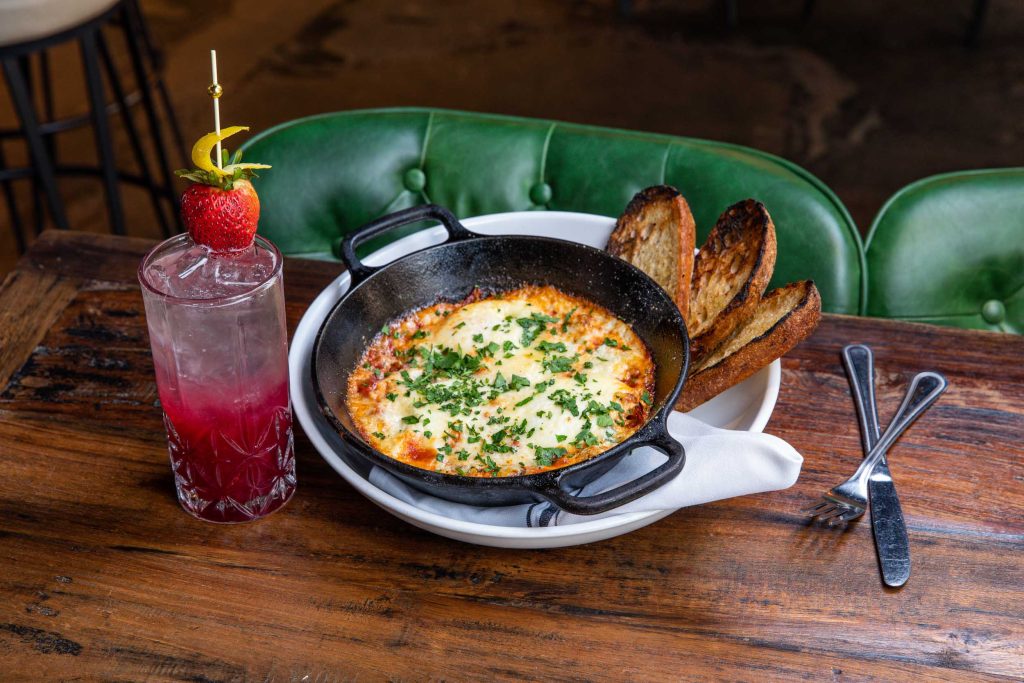 Also new to the market last year, Campo is the brainchild of James Beard Award Winner chef Alessandro "Alex" Stratta and his long-time friend and fellow award-winning chef Jeremy Pacheco, who happens to be the culinary director for Genuine Concepts. In order to stay true to the Italian ethos of using only the freshest seasonal ingredients, the modern Italian tavern proudly features local, organic foods from Arizona's own Huss Brewing Co., Four Peaks Brewing Company, McClendon's Select, Queen Creek Olive Mill, Crow's Dairy, and Sonoran Pasta Co. across its menu. This will be the venue's first summer serving brunch, which is available on weekends from 10 a.m. to 3 p.m. The goal is to pair some of the morning menu marvels from Stratta and Pacheco–featuring everything from Dutch Baby Pancakes and Eggs in Purgatory to Crab Cake Benedicts and rural Italian breakfast classics–with live music as often as possible, thanks to their relationships with an array of talent from across Arizona.
Hash Kitchen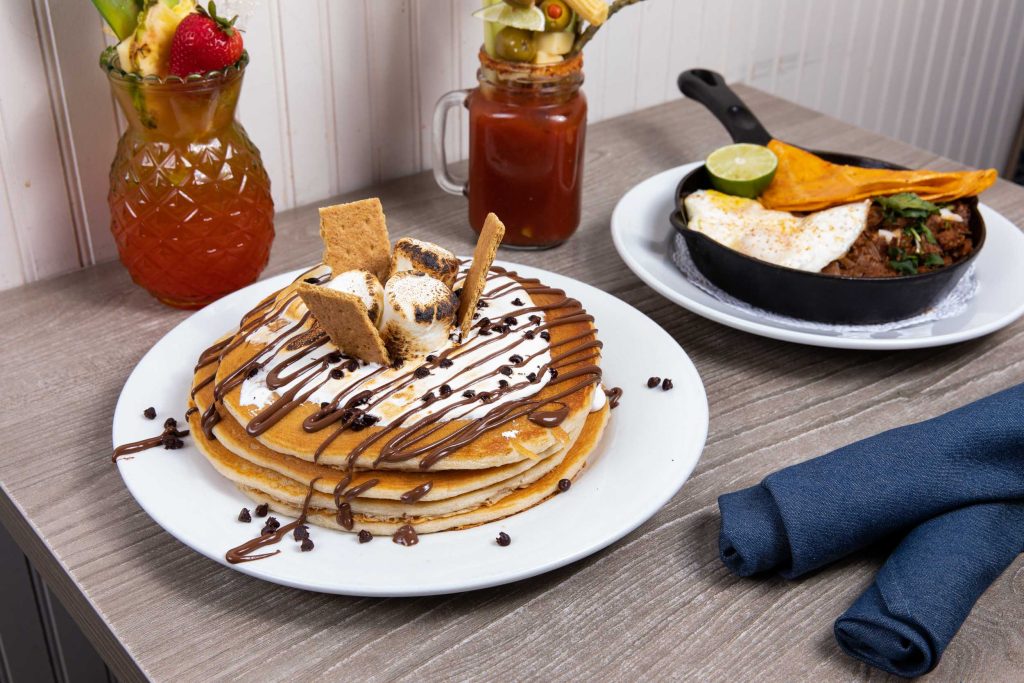 To says this brunch-only restaurant concept–with locations in Chandler, Phoenix, Peoria and Scottsdale–is over the top is an understatement. First, there is a DJ spinning tracks all weekend long, often with throes of guests singing along to every record. Then, there is the Build-Your-Own Bloody Mary Bar with over 50 toppings. As if that isn't enough, there is also a nearly endless morning mixology menu featuring the Hash Bloody in a Bag, which really does look like you are drinking out of a blood bag; the Mega Glitter Bomb Mimosa, a 25-ounce champagne flute with a full bottle of sparkling wine, flavoring of your choice, fresh fruit garnish, glitter cotton candy, and a Hash Kitchen pinwheel toy to take home; and Giggle Milk, which is vanilla vodka combined cotton candy-flavored milk, coconut puree, and Blue Curacao. Oh, and then there is the food. The two-page menu feels like if someone said "Thanksgiving feast…but make it brunchy." If with a group, start with the Hot Glazed Donuts in the shape of hashtags for a photo. Then, just some of the signature items to consider including Maso's Breakfast Potato Tacos made with four potato tacos; Coconut and Almond Encrusted French Toast; the Hangover Hash; and the Breakfast Sliders. Oh, and get a side of the bacon with the 24-karat gold flakes on top, just for fun.
Humble Bistro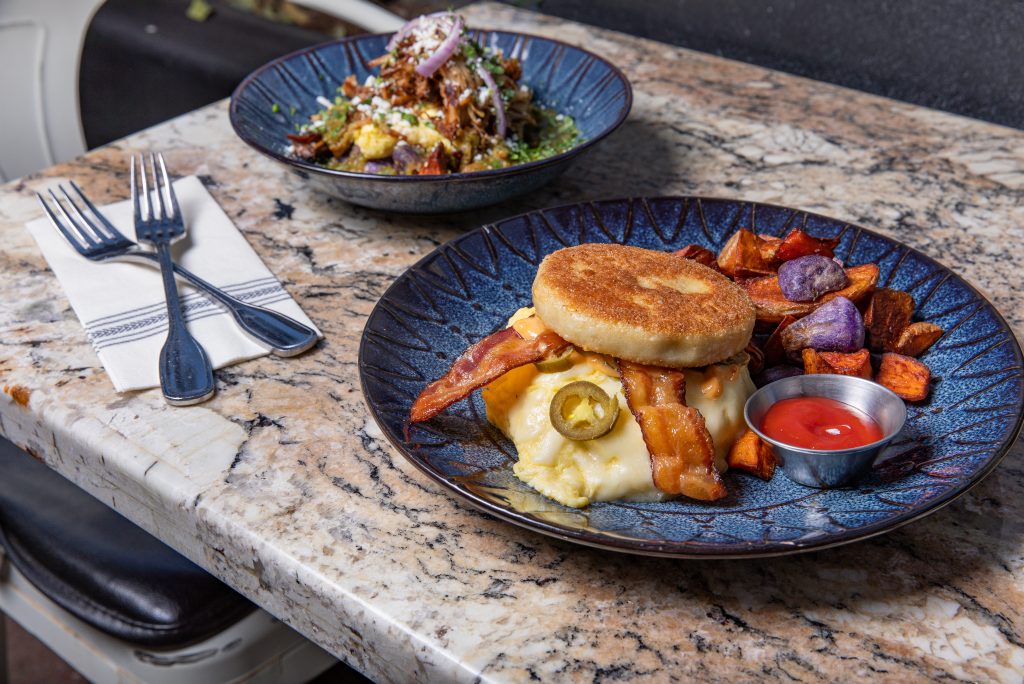 This anything-but-humble eatery with locations on High Street in North Phoenix, Glendale, and Gilbert, offers brunch every weekend from 11 a.m. to 3 p.m., with the Glendale location featuring all breakfast entrees for $11.99 and select drinks for just $6 each. Honestly, each location is very reasonable, even without this killer deal. The menu is a perfect combination of traditional and modern takes on morning favorites. Think classic egg preparations and some fine breakfast sandwiches, but also super-sized artisan cinnamon rolls with candied bacon, cinnamon glaze, and whipped citrus mascarpone. If that's not what you're searching for, look for European-style egg preparations with aged cheddar and spicy hollandaise. Pro tip: add a Neapolitan-style pizza to your order, if even to take home and enjoy later.
Photos courtesy of A Taste of AZ